My work area – what I started with.
The first model I made,
(The East-Anglian Waggon
)
, was way back in 1978. At that time I had no workshop and the only "machine" I had was a Picador Pup which cost me at the time about £25!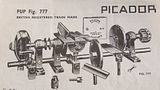 …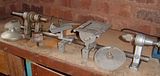 This is basically a length of aluminum tubing ¾" diameter and 24" long, on which various arbors can be slid onto and bolted down in any position, secured by bolt holes drilled into the work bench. This will accommodate grinding, turning, sawing, drilling and sanding. I made a few simple jigs to go with this and it's an incredibly cheap and efficient woodworking machine.
It is powered by an old washing machine motor mounted under the work-bench; you can see the belt drive coming up thro the work-bench to the left of picture. There is a shorter piece of tubing (not shown) that could be placed thro the two arbors between the belt drive, and the 24" length tubing could be bolted down separately to facilitate turning larger diameter work. The rectangular cut-out in the work-bench, which has been plugged up with a piece of wood, is so that the felloe segments of larger wheels can de turned. Turning the 9½" diameter of David Wray's Hertfordshire Timber Bob would be no problem in this versatile little machine! The 'Picador Pup' is no longer made, which I think is a shame, as it was a good first level entry machine for the novice model maker.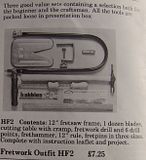 ...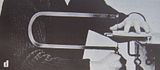 I also had a fretsaw with a cutting table and cramp, much like that shown in picture (top left). This was bought as a Christmas present for me by my Ma and Pa when I was about 13 years old!
(I kept it all these years!)
I would set up in the kitchen on a small folding table and cut my pieces of wood as shown above! I used to buy strips of lime wood in 24 inch lengths in various pre cut sizes as I had no means of preparing timber from large pieces. I used to buy this from Lenham Pottery or David Wray. Each evening, when I had finished my bout of model making, I had to clear and clean all the sawdust and wood shaving from the kitchen -
OR BE TOLD OFF BY MY WIFE!